Lamination & Special Finishes 
Add more value to your printed products. Make them more attractive by choosing from the various laminates, varnishes or special finishes we offer ! 
Take advantage of sensory marketing with aromatic and tactile varnishes and textures.

Surprise your clients with holographic foil.

Pique the reader's curiosity with sandy, fluorescent or metallised varnishes.

Make your message stand out by using 3D relief.

Organise lotteries and promotions of your products by printing coupons with scratch foil.

Welcome to our world of special finishes ! With Pulsio Print the choices are huge. Take advantage of the unique expertise and creative technology that we have developed through years of producing art books, catalogues and graphic novels.
Lamination
Lamination is the transparent coating applied to the cover to add protection and enhance durability. Usually, the laminate is either matt or gloss.
Matt: A Matt Laminate is suitable for art or photo books. It gives a refined and luxurious look to the product, enhancing the colour and the contrast.
Gloss: a Glossy Laminate is suitable for advertising materials, catalogues and brochures since it brightens the colours, making the product more attractive.
Pulsio Print also offers:
Soft Touch Laminate (also called Silk Laminate)

Тhis is a velvety matt coating with a silky, suede-like feel. This type of laminate is preferred for luxury, designer, or fashion editions, especially the more upmarket publications. This type of finish offers an additional sensory effect and enhances the visual aspect of the printed product.

No-Scratch Laminate
If you are looking for a practical and durable type of laminate, choose the anti-scratch option. It protects covers from scratches, stains and scuffs, the kind that occur while carrying a book in a bag. It is usually used as an additional protection for matt laminated products but can also be applied on gloss laminated printed materials.

Varnishes
Different types of varnish offer a more economical alternative to lamination, or as a compliment to it. Varnishes increase the strength and durability of the printed product, while also adding an aesthetic sheen.

UV Varnish
In respect to its gloss and durability, the UV varnish is very similar to laminate.
UV Spot Varnish
A UV spot varnish is applied to specific parts of the page, giving texture and focused accent to particular content or information.

Raised Varnish: as the name suggests, raised varnish adds volume and structure to the page. Because it resembles embossing, it gives an extra dimension, bringing an added dynamic to the product.
Glitter: a high gloss varnish mixed with metallic glitter particles is ideal for magazine covers, catalogues, boxes or invitations, making them stand out. Choose your own colours for a truly personalised appearance.

Micro relief: this spot varnishing technique allows the application of fine textures that are very delicate to the touch and visually appealing due to the play of light. Suitable for advertising materials and book covers.
Embossing and Hot Stamping
Silver/Gold metalised paper 
This luxury finish, obtained by way of lamination, is used by the most prestigious brands to enhance their printed and advertising materials. This type of finish is elegant and pleasing to the eye, making the packaging or the printed document look very refined. It can be applied to any size and weight of paper, making sure your print job matches the high quality of your product.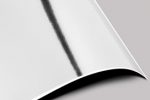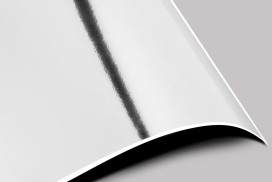 Metalised hologram paper
As a company at the forefront of cutting-edge technology, Pulsio Print offers a wide range of metalised hologram papers adapted to any of your printing projects. Besides the classic solutions in gold and silver, we produce our own metalised papers and holograms. Take advantage of our skills and know-how and together we will create unique effects!

Metalised hologram transparent film
Pulsio Print is one of the few European printers to offer this ultra-modern technology comprising cold lamination with transparent hologram film over the printed product. We offer an almost endless variety that might make your choice very difficult: crystals, sequins, bubbles, water drops, hearts, flowers, diamonds… We support your imagination – ask us for customized designs created especially for you!
3D Metalised paper
Give more boldness to your printed materials by using this impressive effect that combines metalised print with visual surprises. The geometric shapes stand out with the contrasts of matt/gloss and shadow/light, combined with a metallic glint. You're free to choose the printing effect you prefer and can count on the professional advice of Pulsio Print!
Metalised paper with glitter film 
This technique adds a brilliant effect to your product for a daring printing solution. Enhance the impact of your printed material and express your creativity!