The Komori HUV (H-UV) is the latest acquisition by Pulsio Print, for €1.1 million, to be – in the service of its customers. It improves print quality, shortens production times by highly efficient drying, and removes the need for a coat of varnish. Its printing system with UV inks is also very environmentally friendly, reducing CO₂ emissions by around 25%.
Like all other reinforcements of the production line made by Pulsio Print in the last two years, the goal of installing this cutting-edge equipment is to upgrade our service provision by increasing the quality of our products.
This new Komori H-UV (a brand that dates back almost 100 years) brings many benefits to our customers.
Exceptional quality of printed images:
The range of colours is more extensive – the colour space and the colour choices are improved simply and immediately, because mechanical thickening is much less important, thanks to which the phenomenon of gloss reduction by drying no longer exists.
The possibility of using a random halftone screen with complete peace of mind, including on offset papers.
The screen ruling can be adapted to increase the fine detail of graphic creations (screen 200, screen 300) without affecting the colorimetric space.
Fast drying allows the use of high ink loads with ink rates greater than 320% and improved image sharpness.
Generally, H-UV is a luxurious printing service, however Pulsio provides that service at an affordable price. The colours are superimposed for an unequalled print density, resulting in an impeccable rendering and a superior brilliance and brightness with H-UV compared to conventional offset printing.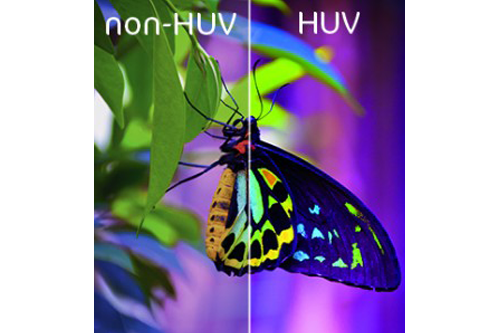 The whole range of print media:
The rapid drying of the H-UV system, which releases a very small amount of heat and thus ensures dimensional stability, makes it possible to work on multiple formats often discouraged by traditional printers, such as tracing, transparent plastic, gold, silver, mirror sheets, Kraft, creative papers, and many others.
Immediate drying allows the application of opaque white ink or "white covering" for printing on coloured paper.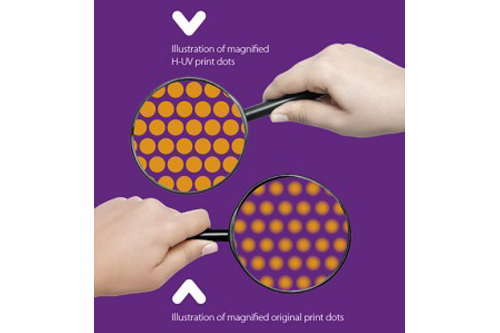 Reduced delays and fast drying:
Production time is reduced thanks to instant drying. Sheets printed at speeds of up to 16,500 sheets per hour are sent almost immediately after printing to the finishing department without any risk of scratches or dirt.
HUV drying considerably reduces the smell given off by printed sheets compared to standard offset printing.
Drying powder, used in traditional workshops to prevent smudging, is no longer necessary. In conventional offset printing, it creates a physical barrier between the printed sheets and allows traditional drying. This powder can cause quality problems during production – white films on dark areas or stain marks. Its removal facilitates shaping operations.
A very ecologically-friendly machine that respects the environment:
Energy saving compared to standard UV machines can reach up to 35%.
Total elimination of UV varnish, a synthetic product. Indisputably a benefit for the natural world.
Significant CO₂ reduction (up to 25% compared to standard UV machines).
No ozone release during drying, thanks to different wavelengths used by the H-UV technology from those used in traditional printing.
More ergonomic working conditions. The air is not polluted and emissions are reduced.
Pulsio Print is delighted to be able to offer this new technology to its customers. Our consultants are at your service to send any test samples you would like.
Check our price: it's free and it only takes seconds!