Create contrast of light and shade with an embossing and debossing effect

There are many options to choose from when designing the cover of your book. Hardcover books can feature hot stamping, embossing and debossing. We truly believe that great printing should be more than just ink on paper. These techniques will help you to enhance a person's experience of your printed material by making the text or image really stand out to the eye as well as to the touch.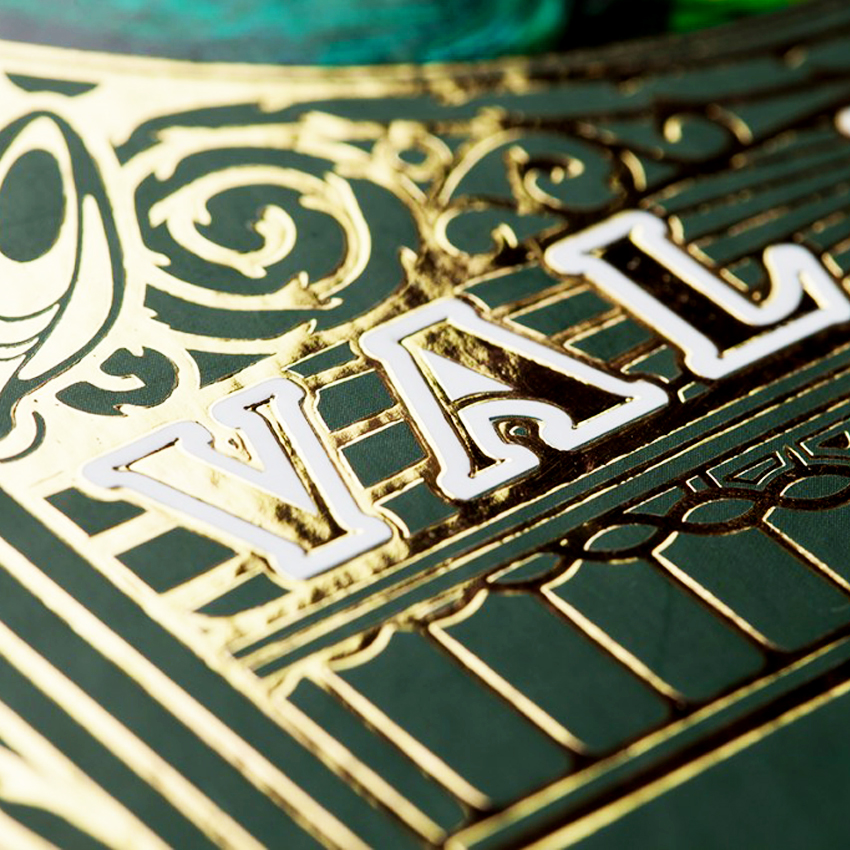 Hot stamping also known as foil stamping or hot foil stamping is a simple recipe of three main ingredients – heat, pressure, and the correct foil for the job. It consists of applying the pigmented or metallic foil to a surface using a heated die and enough pressure to seal a thin layer of foil. To build the final design each color is added individually through multiple press runs.
On the other hand, embossing is a technique that creates a raised or 3D image. As for debossing, the image is depressed (meaning lowered) instead of raised. Both are typically accomplished with a combination of heat and pressure on the paper. When combined with hot stamping it can create a very striking 3D image. However, hot stamping is a technique that can be used on its own.
More generally, hot stamping is an artistic and creative technique used to bring more visibility to your products by working on the aesthetic finish. It is a long and laborious process, but one that gives an amazing result for your product.
The popularity of hot stamping continues to grow and although it has been around since the late 1890s, it is still a favorite method of adding color and definition to a variety of materials and products. As experts in hot stamping, we thought we would provide a rundown of hot foil stamping, its many uses, and incredible benefits.
Calculate your price now: it's free and it only takes seconds!
What makes hot stamping so irresistible?
Hot stamping is favored compared to other stamping services because of several advantages:

It is environmentally friendly
The hot foil stamping process is quick, clean, environmentally friendly and cost-effective. Use hot stamping to create astonishing book covers, creative complimentary samples or amazing packaging in order to heighten brand awareness and attract attention to your brand. It is entirely possible to create show-stopping designs to distinguish your brand and be safe in the knowledge that it will not affect the environment negatively. Paper products decorated using the hot stamping technique are suitable for recycling.

It is flexible
It can be used in any type of material. Products such as paper, fabrics, and leather are but a few of the outputs of the process. In our workshops, we work on many supports and more regularly on paper and cardboard. Other than that, Pulsio Printworks with finished objects in rubber, plastics, and many more materials. With hundreds of custom printing options to choose from, we are here to ensure that your project comes out just as you thought it would. The object must, however, meet certain size and rigidity constraints that must be submitted to us.
It offers endless choices
Hot foil stamping is often paired with embossing or debossing, which provides the final product with an even more unique look. You can also experiment with different types of paper such as corrugated cardboard and high gloss, creating different and exciting customer experiences. A very wide range of colors is available and suitable for different print media. Regardless of the material, the result is a truly stunning effect. Thanks to this printing technique, book covers, catalogs, business cards, restaurant menus, invitation cards can easily become real pieces of art!
Hot foil stamping is not restricted to single colors, or only those considered as metallic, but can be combined in an extensive range of colors, making it ideal for any image and applied in a broad range of designs. Splendid gloss foils are also available in pearlescent, holographic, and solid effects for your products. Adding foiling to brochures, books, and catalogs makes it instantly more aspirational and enticing for your offering. Hot stamping adds value and personal touch to the simplest of items, providing a unique finishing touch.
It is lasting
Hot stamping does not use any ink. As a result, the color of the foil will not change, based on the color of the paper you are printing on. Using a metal die in the process will allow for branding, meaning the brand name will remain if the color ever fades out. This makes it more of a permanent process. With this, the output is said to be able to adapt even to the toughest of conditions.

It is timeless
Hot stamping and gilding dress up a book, catalog, or card set in a classical and timeless way. It plays with the light bringing the customer's attention to the information you want them to focus on. We have seen foil gilding make a major comeback in recent times, and it is no longer a finish reserved for books bound to leather cases. Gilt elements on a book, catalog, or card speak of prestige, trust, and quality. With its distinctive and eye-catching appeal, it helps make your printed piece stand out from the crowd.
However, there is an alternative that is very convenient for smaller quantities of prints within one order and faster execution. Pulsio Print is delighted to offer its customers the "Silk Foil" gilding! This innovative process represents a combination of screen printing using UV glues and hot foil stamping. Both processes are managed with high precision by digital modules. The hot stamping is done using a special silicone plate, as fine as silk, hence the name of the process.
Production cost
Like all other artwork produced for your book, the price of the final product will vary depending on the number of elements that you choose to put. You can use hot stamping on the dust jacket to highlight the title or on the spine to identify the book without the jacket and for libraries that remove the jackets. Also, you can emphasize a main element on the front or back cover with embossing or debossing to add more "finish". Here below, you can find a table with guideline prices:

* The technical details, which make each process more or less difficult to apply, but which do not directly concern the customer (for example: the inevitable elaboration of a matrix for the embossing, change of machines, sheet yield used for cushioning) are indicated and translated in the table as differences in "turnaround time".
** Dimensions for hot stamping/ embossing/ debossing of 100 x 100 mm, on cover A5, print run 1000 copies.

Contact us
Contact a Pulsio Print Customer Advisor and they will advise you on the feasibility of your project and the best choice for you.