Book Binding
They may say that you can't judge a book by its cover, but that isn't strictly true. The truth is that the quality of the cover reflects the overall quality of the printed product. All of our available options for covers and bindings are designed with three things in mind:

Easy handling and storage of the printed product;

Optimal comfort while reading;

Protection from damage during use.
Our binding facility is fully equipped for a range of different techniques and focused on improving the efficiency of order completion. Our aim is to offer you a variety of options that meet the purpose of your printed product, 100% of the time.
We offer a choice of trimming and folding, different types of binding and quality die cutting. The right binding enhances the product by making the book more beautiful!
Home » Book Binding
Saddle Stitching
For publications with a low page count, saddle stitching is one of the most practical, economical and viable solutions. It is both durable and tasteful in addition to being easy to open and comfortable to read. It's the perfect choice for commercial and technical brochures, annual reports, programmes or prospectuses. Saddle stitching comes in two varieties:
Standard saddle stitching
Loop stitched
*loops are used in order to insert and secure the document in a ring binder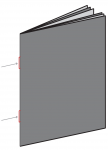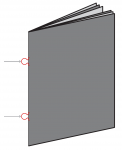 Let's learn more.
The folded sheets are gathered together, one over the other.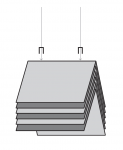 During this process, the edges of sheets move outwards progressively. This is called creeping and it has the following implications:
The number of pages to be saddle stitched is limited (not more than 100 pages)

When making the print-ready PDFs you need to allow for 7 mm bleeds and to avoid positioning the page numbers too close to the outside trim.
Perfect Binding
Perfect binding is a perfect solution for binding books, magazines, annual reports, catalogues and luxury brochures. Using this technique allows the binding of large numbers of pages, and your product has the look of a book: a combination of quality and aesthetics!
After folding and gathering, the sections are trimmed off and roughed up, or notched, to improve the penetration of the adhesive. Then they are glued to the cover under pressure. As the name suggests, this binding method allows the production of perfectly square spines.
It is suitable for most products printed on paper with a maximum weight of up to 130 gsm. Because of the trimming of the folded ends, perfect binding has the advantage of 'hiding' separate sections, leaving the impression that the printed material consists of separate pages.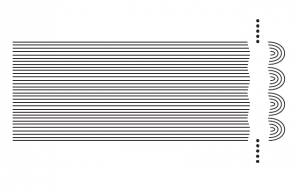 PUR binding 
PUR Binding uses the same technology as perfect binding but makes use of a special polyurethane reactive (PUR) adhesive. Since the PUR glue is much stronger, this type of binding is highly resistant to thermal shocks from the environment. Thus it is especially recommended for magazines and catalogues in large circulation. This type of binding can be used instead of section-sewn binding, especially with coated papers.
Section Sewn Binding
Section sewn binding is very durable and suitable for books that are used often and constantly thumbed through, as well as printed products that are made to last. This type of binding combines both sewing and gluing – the folded and gathered signatures are sewn together then thermally glued to the paper cover that provides the added durability. It is recommended for books with pages weighing over 130 gsm.
Wire-O binding
Wire-O Binding is a long-lasting, durable and practical type of binding, allowing the printed product to open 360° and making it very easy to handle. It is ideal for documents that are often paged through and annotated, like reports and brochures. It is widely appreciated for the following advantages: it allows easy updating of documents by removing or adding sheets, the double metal rings make it possible to bind together different materials such as paper, board, plastic, off cuts, etc., and for a more upmarket finish the metal spirals can be encased or enveloped by an additional cover.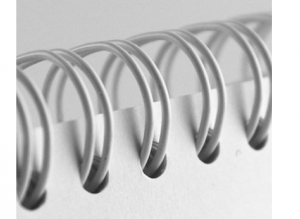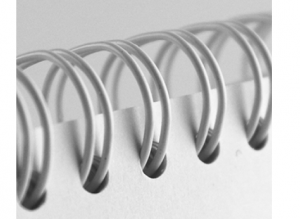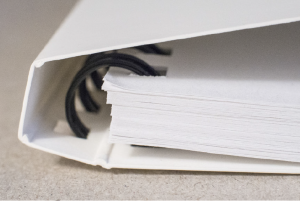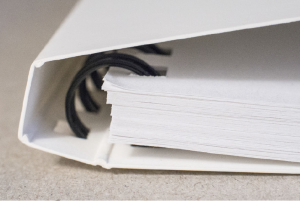 Japanese Stab Binding
Originating from the traditional Japanese four-hole bookbinding technique, Japanese stab binding features a cover bound together with the pages in a book block that looks like it was sewn together. The finish looks raw, authentic and exotic and it gives a lot of appeal to your notepad, pocket notebook or short run book.
Singer Sewn Binding 
Singer sewn binding is simple but very elegant, giving a stylish appeal to notepads, brochures and booklets. Inspired by the craftsmanship of great tailors, this technique consists of sewing each section along the entire spine. The visible thread gives the product an authentic feel.


Screw Binding (metal or plastic)
Screw binding is very practical, allowing your products to be presented in a fan shape. The screw holds the pages together but they can be spread out and displayed, which makes it very suitable for colour charts, swatches of paper or board, notebooks, etc.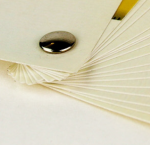 Case Binding 
Case Binding is an ultra-durable, high-quality binding and a must for high-end, luxury products that are made to last. The folded, gathered and sewn sections of the book are attached to a board case that is covered with cloth, printed paper or other materials.
The book block is locked in place with end papers. The spine can be square or round, and the head and tail bands, made of differently coloured fabric, add elegance and sophistication to the finished product.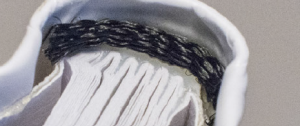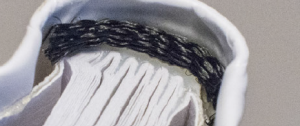 THESE PRODUCTS MAY BE OF INTEREST TO YOU